There has been a lot of discussion [Guardian, BBC, Telegraph] in the media recently about how a student's choice of A Levels affects their chances of securing a place at University. It has been suggested – frequently – that there is a "secret" list of subjects that are considered "hard" and therefore worthwhile, and those that are considered "soft" and therefore not worthwhile.
The Russell Group of universities, which includes Oxford, Cambridge, and my alma mater, King's College London, has recently released a guide for students called Informed Choices. It is one of the ugliest and most difficult-to-read documents I have ever come across, so I have summarised below what I think is the most important advice.
The guide lists "facilitating subjects" that are "required more often than others" for entry to university:
"By choosing facilitating subjects at advanced level, you will have a much wider range of options open to you at university. An A Level qualification in any facilitating subject will keep open to you a number of degree courses."
The list of facilitating subjects consists of physics (of course), chemistry, biology, maths and further maths, english, geography, history and classical and modern languages. The guide goes on to warn that:
"If you decide not to choose some of the facilitating subjects at A Level, many degrees at competitive universities will not be open to you."
On the subject of "hard" and "soft" subjects, the guide has this to say:
"In general, subjects referred to as being 'hard' are more traditional and theoretical subjects, for example: English, History, Physics and Chemistry. In fact all the facilitating subjects listed earlier can be considered 'hard' with the addition of others such as Economics and Politics. 'Soft' subjects are usually subjects with a vocational or practical bias, for example: Media Studies, Art and Design, Photography and Business Studies.

"If you plan to take more than one perceived 'soft' subject, some caution may be needed."
The University of Cambridge published its own list of "soft" subjects a couple of years ago. It included accounting, art and design, business studies, communication studies, dance, design and technology, drama and theatre studies, film studies, health and social care, home economics, ICT, leisure studies, media studies, music technology, performance studies, performing arts, photography, physical education, sports studies and travel and tourism on a list of subjects that it considered "less than ideal".
There is a section in the Russell Group's guide entitled Subjects Required for Different Degree Courses. I did a quick totting-up of the subjects listed as "Essential" and whilst I was hoping that Physics would come in in first place, I'm happy to settle for the Silver Medal.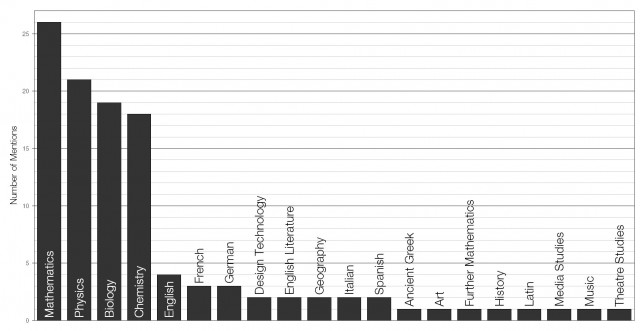 (I took to using "MPBC" as shorthand, due to the frequency with which that four-subject combination came up.)
Update: Tom Hartley has a better graph than mine.