The Grumman F-11 Tiger was the US Navy's first supersonic fighter jet. It came equipped with four Colt Mark-12 cannons that fired 20mm projectiles at more than 1000 metres per second.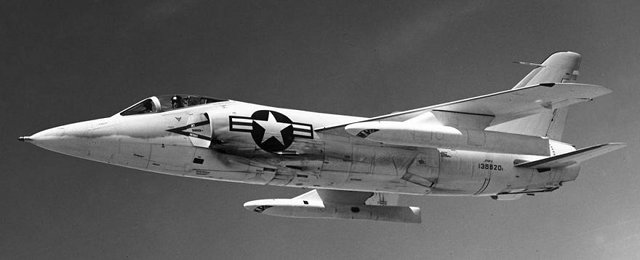 Grumman F-11 Tiger, serial number 138620
In September 1956 Thomas W. Attridge, a Grumman test pilot, was flying Tiger #620 in a test flight over the Atlantic Ocean; part of this test flight was to test-fire the Tiger's cannons. At 20 000 feet Attridge entered a shallow 20° dive and at an altitude of 13 000 feet fired a 70-round burst from one of the cannons. He then activated the Tiger's afterburners and entered a steeper dive, firing a 55-round burst from the cannon at 7000 feet to empty the cannon's gun belt.
At this point three of the rounds that he had fired at the higher altitude, which had been slowed by air resistance and which had curved towards the Earth under the effect of gravity, struck the aeroplane's windshield, nose cone and one of the engine intakes. With reduced engine power available Attridge was unable to return to Grumman's Long Island airfield and when the engine finally died he was forced to crash land, 800 metres short of the runway.
Despite the unused fuel catching fire, and unfired ammunition from the other cannons "cooking off", Attridge survived with only a broken leg and three damaged vertebrae; had the cannons been armed with explosive rounds, as would normally be the case, it is unlikely that he would have survived. Attridge later went on to become the project manager for LM-3, the first Apollo Lunar Module to be rated for human spaceflight, which was used as part of the Apollo 9 mission.
In 1973 another Grumman test pilot, Pete Purvis, also shot down his own plane,* this time  with a dummy AIM-7E Sparrow III air-to-air missile that pitched upwards after being released from its hardpoint and struck the wing of the F-14 Tomcat that Purvis was flying. Both Purvis and his Weapons Systems Officer ejected safely.
via Futility Closet
* Source: The Day I Shot Myself Down by Pete Purvis. Purvis also worked on the Fulton Skyhook recovery system.